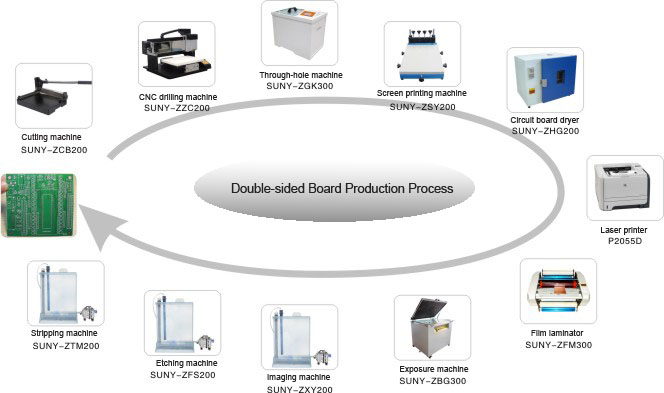 This solution include all the machine to produce the PCB bards. This solution is mainly for produce the 200*300mm PCB, and this solution is only used for produce the PCB boards samples. Suitable for the school to do the small test.We also provide the completely liquids,materials and allthe other consumables.You can start to do the PCB boards once you get our machine and all consumables.
Features:
Maximum PCB size:200*300mm

Single side PCB capacity: 12 square meter/day

Double side PCB capacity: 2 square meter/day

Line width:8Mil

Line space:8Mil

Mini aperture:0.4mm

Training:
Our engineer can do the training in your cuntry.

You can also come to our factory to fo the training.

The production line equipment configuration
| | | | | |
| --- | --- | --- | --- | --- |
| No. | Equipment name | Model | Unit | No. |
| 1 | Cutting machine | SUNY-ZCB200 | pcs | 1 |
| 2 | CNC drilling machine | SUNY-ZZC200 | pcs | 1 |
| 3 | Buffing machine | SUNY-ZPG100 | pcs | 1 |
| 4 | Through-hole machine | SUNY-ZGK300 | pcs | 1 |
| 5 | Screen printing machine | SUNY-ZSY200 | pcs | 1 |
| 6 | Circuit board dryer | SUNY-ZHG200 | pcs | 1 |
| 7 | Laser printer | P2055D | pcs | 1 |
| 8 | Exposure machine | SUNY-ZBG320 | pcs | 1 |
| 9 | Film laminator | SUNY-ZFM300 | pcs | 1 |
| 10 | Imaging machine | SUNY-ZXY200 | pcs | 1 |
| 11 | Etching machine | SUNY-ZFS200 | pcs | 1 |
| 12 | Stripping machine | SUNY-ZTM200 | pcs | 1 |
| 13 | Film contrapuntal box | SUNY-ZDW200 | pcs | 1 |
| 14 | PVC tank | SUNY-ZSC200 | pcs | 1 |
| 15 | Heat-transfer machine | SUNY-ZRZ200 | pcs | 1 |
| 16 | Teaching process wall chart | | page | 15 |
Option